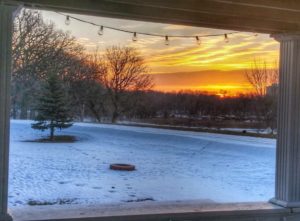 I'll be honest, the this time of year is really difficult for me. Along with all the parts I look forward to around the holidays such as gift-giving, parties, paid time off, traditions with family, and Christmas treats also comes a caseload of clients that doubles in size overnight. Every year I tell myself I will be stronger, I tell myself that it will get better, and remind myself that I can't save the world; I can't bring the world home with me for Christmas. But, every year I still break down and cry…A lot.
The holidays are usually a time that I reflect on the clients I have had the privilege to work with over the years. I recall their stories, and I remember that many of them do not have the opportunity to receive or give gifts, to go to parties, to take off work, to spend time with family, or to have a warm meal to eat….
I have mourned with kids in psychiatric facilities whose family did not visit them over Christmas. I have been a shoulder to cry on for a man who had no one to spend the holidays with, and was too embarrassed to tell anyone about it. I have tried to find the silver lining for the girl who told me that she has never opened a Christmas gift in her life. And I continuously work with individuals whose behaviors escalate around the holidays due to the trauma they've endured, and then watching as those around them lose empathy because they do not understand it.
I can't keep up with the demands of the job because I cannot make people's pain disappear, and the holidays alway remind me of that. It's hard for me to look forward to time with my own family when I spend the days leading up to the holidays in constant crisis mode with my clients who have been sexually assaulted, physically and emotionally abused, and have nowhere to go. I struggle to leave work at work and take a break because I know someone might need me, and I can't be there for them…This is called secondary trauma, or compassion fatigue, if you will, and it can affect any one of us at any given time. We take on our clients' problems and stress, we let their stories affect our personal lives,  we develop our own triggers, we become hyper-vigilant, and ultimately we burn out. That's why people who work in the helping profession often have a high turnover rate…we give too much of ourselves.
I always ask myself why…Why do I get to look forward to the holidays when it brings so much pain to some people? I get mad that the world isn't fair and get discouraged because there is nothing I can do to change that. At the end of the day,  I always remind myself that I have done my best, but sometimes telling myself that isn't enough to make the pain and frustrations dissipate. It isn't enough to 'leave it at the door' when I get home because I am still empathizing with those less fortunate than myself. If I only had a nickel for every time someone asked me how I take care of myself with such an intense job, I think I'd have enough money to buy every client plenty of gifts to go around! That being said, the way I get by each holiday and stay sane is to take care of myself and keep my compassion fatigue in check. Regardless of your field of world and how stressful or enjoyable your job may be, we all need to take care of ourselves and be sure we put ourselves first sometimes.
Here are some quick and easy ways I do that:
1. Check In…. I check in with myself every day; physically, mentally, and emotionally. I tune into how tense I am, what is causing me stress and/or joy, how tired I am, what I am thinking about, etc… Just check in and take a pause. Know where you are at and be mindful of yourself, first and foremost. This can take no more than 5 minutes, but it ensures that each day you don't forget about yourself and become mindful of how you feel. This helps me approach each day more thoughtfully and think about myself throughout the day, which is easy for me to forget to do.
Click here for another perspective on checking in.
2. Be Kind… Not only to others, but to yourself. Be easy on yourself. Know that you are working hard. We get ridiculed enough in this society as it is, the least you can do is be nice to yourself and give yourself a compliment now and again. You  can always find something positive to say about yourself, and make it a daily habit. It's easier to be kind on the outside when we are first kind on the inside. And I find myself more kind to others when I am first kind to myself. By being more kind to myself, I have actually found that mean/rude people don't bother me as much; I am nice to people even when they aren't nice to me. And sometimes that is just what they need because clearly they're having a worse day than I am.
3. Focus on what is in your control… As you could have guessed, I can't bring all of my past and current clients home with me for the holidays. Clearly, that is out of my control. I need to remind myself of the actions I have taken to try and produce the best outcome, but the outcome itself isn't something I can predict. The holidays may bring extra frustrations or unpredictability, but it does no good to be upset over something I cannot do anything about.
When things arise that cause anxiety and frustration, just check in and ask yourself what about that situation you're able to change, do it, and leave the rest behind.
4. Take Breaks… Let me spell it out for you, PTO…P-A-I-D   T-I-M-E   O-F-F. I know it's hard to imagine, but the world will still revolve in your absence. People will get by if you're not there. You earned time off, take it. We all need breaks. If we don't take breaks we are burning ourselves out and that only affects the people around us, and the clients we are trying to serve. We cannot be our best selves in the work place if we are not taking breaks. Life is more than just working all the time. Try to rid yourself of the guilt because if you aren't your best self for you, you sure as heck can't be for anyone else. Breaks help give us some clarity and relief. Enjoy that vacation in Hawaii!
5. Cry… I hate crying. I hate it. And I do not do if often, so when I do I know that it's needed. And every time I break down I feel better. We have emotions, people! We always get mad and embarrassed with ourselves for feeling the way we feel rather than just accepting it and letting it flow. You can't control your emotions, but you can control how you react to them.
We have to get our feelings out and be honest with ourselves. Not only does it feel better and help us come to terms with things, but it brings a sense of relief. And it ensures you that you won't go and unexpectedly word vomit your emotions onto someone else.
Click here to read another one of my blogs on this topic.
6. Decide what self care means to you…. In my trainings, when I ask people what self care means to them, often they say things like taking a bath, going on vacation, getting their nails done, going hunting, etc.. But self care is SO much more than that. Really ask yourself what self care means to you, it's more than just this surface-level stuff. Dig deeper, there's always more we can be doing for ourselves to ensure our happiness and health is where it needs to be. My self care absolutely includes vacations, getting my nails done, playing basketball, etc.. But it also includes all of the helpful tips above plus many more.
One of my favorite self care exercises is what I simply refer to as happy thoughts. Sometimes it is easy to let negativity sink in without even recognizing it. It's these times when we don't give ourselves enough credit and say something hurtful about our character or our physical appearance. So, when that happens I practice what it referred to as 'thought stopping' in the social work world, and replace those icky thoughts with one of my handy dandy happy thoughts I keep stored away.
We all have tough days, and we need to be easier on ourselves in order to get through them. A little gratitude, kindness, and self love can go a long way.
If your compassion does not include yourself, it is incomplete ~
-keep shining
For additional holiday blog posts, click here and keep scrolling.