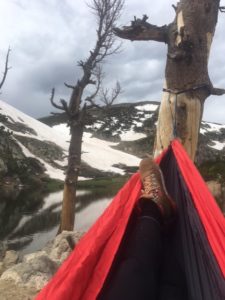 When you go out into the woods and you look at the trees, you see all these different trees. And some of them are bent and some of them are straight. Some of them are evergreens and some of them are whatever. And you look at the tree and you allow it. You see why it is the way it is. You sort of understand that it didn't get enough light and so it turned out that way. And you don't get emotional about it. You just allow it. You appreciate the tree. The minute you get near humans you lose all that. You are constantly saying, "you're too this", or "I'm too this". That judging mind comes in. So I practice turning people into trees. Which means appreciating them just the way they are.  –Ram Dass
This is easily one of my favorite quotes of all time. Do yourself a quick favor (pretty please) and read this quote again, soak it up, and think about how this pertains to your life.
Now what I need all of you to do is ease up…Ease up, people! On yourselves, on others, on the trees, on everything. Life is too short to live each day judging everyone. And most importantly, life is too short to live each day judging yourself. Nothing kills love quicker than judgement.
There is nothing more beautiful or worthwhile than discovering who someone is. Beneath it all. Everyone has a story, and we miss out on that by all of our preconceived assumptions and opinions. Everyone can teach you something, and we constantly lose out on the opportunity to learn. How boring would life be if everyone were just like you, if everyone thought the same way you did? If you allow yourself to let people just be without creating any immediate assumptions about who they are and/or treat them as such, they will blossom, and they will remember how kind you were. That is what makes life worth living. People are doing the best that they can in the best way that they know how. 
We all have our struggles and life is hard enough. Be sure to remind yourself each day why you are important, why you matter, and why you love yourself. We forget to be kind to ourselves because we are so scared of judgement. We care far too much about what others think about us and we care far too much about things that do not matter. We cannot control those who judge us, but we can control how we judge ourselves….
If judging others and yourself and making assumptions about people is something you struggle with, I challenge you to practice this skill and see how it changes your life. And let the trees be a reminder of how positive life can be.
Appreciate yourself, and appreciate those around you.
-keep shining