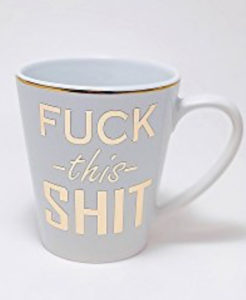 Laugh all you want, but I truly feel like swearing is an underutilized coping mechanism that often gets judged. If there is one thing I can say that continuously provides some relief and humor in my life, it's swearing….
Think about how much more you're able to withstand the pain of stubbing your toe when you scream out some vulgar language, or how much more exciting that promotion is when we meet the excitement with a resounding, "F*CK YES!".
I have come to accept that I just love to swear. I used to have a swear jar, but quickly realized I could fund NASA if I continued down this path of trying to be more 'lady-like'.
So okay, you get it…I swear like a sailor and use manners like a saint, but the older I'm getting the more I am finding this trait to help me relate to others. There is something relieving about interacting with someone who uses a little bit of vulgarity in their vocabulary; it's personable. And there are articles out there that claim we trust those we interact with more when they swear. Whether or not those articles are legitimate, I feel like that's accurate in my world. I relax a little bit and feel like I can be myself around those who talk like me, who can let their guard down a little, and be who they are.  It makes me feel like they have reached a point of feeling comfortable around me. We are adults, after all, and expressing ourselves is very important.
Now don't get me wrong, there is definitely a time and place for this kind of language, so don't go crazy with letting your F-bombs fly in front of the kids. But when it's appropriate, maybe swearing can help a little, ya know? It's a way to express ourselves more accurately. Swearing brings  humor into many aspects of our lives, and adds some drama to any story we tell.  It just helps us express ourselves and allows us to wear our emotions on our sleeves more accurately. Sugar-coating things can be exhausting. If we constantly tiptoe around what we want to say, we aren't being true to our feelings. We just need to let it out sometimes, and that's okay!
Swearing is like a compromise between our fight or flight response; when we don't know how to react or respond, we swear. At least when I am stuck, swearing makes me feel 'normal' and letting out a simple, "sh*t" or "dam*it" is all I needed, and all that I really could do in the situation.
Think about a time someone purposefully scared the crap out of you…Pause for a second and recall that situation. Typically our fight response in that moment may be to punch that person in the face (perhaps not the best plan of action), or our flight response is to cover our face and scream or run in the opposite direction. We had no control over those responses because in those 'fight or flight' moments our brains take over our responses. However, another possible response may be that we let out a giant, "HOLY F*CK!".  And in my opinion, that is by far the best response. In that scenario, no one goes to the hospital with a broken nose, but instead we all have a good laugh over the ridiculous swear word our brain decides to word vomit. And it provides the most relief now that you realize no one is jumping out to murder you.
Swearing makes situations more uplifting, and it's just the best answer to life's predicaments sometimes. So before casting judgement onto someone for using colorful language next time, maybe take a second to ask yourself, "well sh*t, am I being too f*cking judgmental right now?"…And also pat yourself on the back, because perhaps Sweary-Susan over there felt comfortable enough around you to let her guard down and cuss a little.
Life's disappointments are harder when you don't know any swear words.
-keep shining